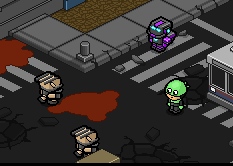 Mutants are a type of monster. Relatively little is known about them.
Mutants are similar in stature to humans, though appear to be much stronger. Unlike humans however Mutants have very little intelligence. Most seem to even lack the ability to talk. Despite this there are some Mutants who seem to show more intelligence than others, most notably Bug (who was able to talk and use a weapon).
Although Mutants can't be infected by the zombies they do find the bite poisonous and can die from it. There are also many diffent types of mutants, but only three kinds have been seen (the regular mutants, Bug (intelligent mutant), and Greybane (Werewolf))
Notable Mutants:
Edit
Ad blocker interference detected!
Wikia is a free-to-use site that makes money from advertising. We have a modified experience for viewers using ad blockers

Wikia is not accessible if you've made further modifications. Remove the custom ad blocker rule(s) and the page will load as expected.